lizard® mobile stacking bridge: for more reliable heap leaching
For heap leaching and dry tailing stacking there is no better solution than the lizard®. With thyssenkrupp's newly designed mobile stacking bridge you benefit from lower CAPEX and less fatigue.
The lizard® combines two established technologies – the conveyor bridge and the crawler-mounted tripper car – to create a new and unique solution for heap leaching pads for processing copper ore, and for dry tailing stacking. As the tripper car in the lizard® system is decoupled from the conveyor bridge and has its own chassis, it can be controlled via the Float Control independently of the bridge.
How you benefit from the new design
Lighter bridge structure and smaller bridge crawler drives
No loads from the travelling tripper car on the bridge – no fatigue issues on the structure
Easier transitions points between bridge segments – no stress from the travelling tripper car on top of the bridge structure
Simpler operation and alignment of the bridge crawler drives
Lower bridge height thanks to simplified bridge design and construction
Generally higher dump and longer outreach possible due to stand-alone tripper car
Lower bridge height and lower discharge height of bucket-wheel reclaimer as the same design applies to the reclaiming bridge
The bottom line: lower investment costs and fewer fatigue issues on bridge structures
Unique multi crawler without steering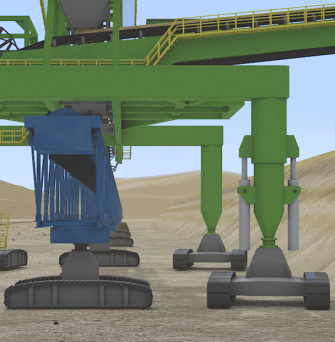 The multi crawler drive system is a unique productivity-boosting feature of the lizard®. A multi-crawler chassis with no override control, the so-called Float Control, is attached to the tripper car. The individually controlled crawler tracks allow movements in all directions with no constraints. This Float Control, which can be attached to any crawler, does away with the big steering radius normally associated with conventional gearing systems. A key advantage of the multi crawler without steering is that it makes the lizard® system more flexible. When the decoupled mobile stacking bridge has finished a stacking row and has to move to the next stacking row, the tripper car in the lizard® system moves together with the mobile stacking bridge as a single stacking system – backward or forward depending on the stacking concept.
Float control
Implementation of the adapted in-house developed control algorithm into the Programmable Logic Controller (PLC)
GPS antennas to validate location for each crawler unit
Alignment transducers to measure and validate orientations and set directions for a controlled maneuverability
Speed encoders to receive relevant speed data and control movement for each crawler
Transducers to measure and validate crawler unit orientation relative to the machine
More reliable heap leaching
Leaching is a mining technology used to extract precious metals, copper, uranium or other combinations from ore via a series of chemical reactions that absorb specific minerals and then re-separate them after their separation from other earth materials. As the demand for commodities from the mining and metals industries has increased in recent years due to the growing demand for sustainable urbanization and industrialization solutions, heap leaching has become an essential process for gaining the necessary raw materials, e.g. for e-vehicle batteries. The benefits the lizard® (mobile stacking bridge) brings make it a more reliable solution for heap leaching.
Better dry tailing stacking
Tailings are fine-grained residues in the form of sludge resulting from the treatment of ores. Dewatered stockpiling (dry stacking) is a safer alternative to tailings dams for tailings disposal. Dry stacking is applied in areas with limited space and water resources, and where topographic and geotechnical conditions prohibit conventional impoundments (wet tailings). For dry tailing stacking the lizard® again offers a more reliable and efficient solution.