Crushing equipment and screens for the aggregates and other mineral mining industries
We offer the entire product range: jaw crushers, cone crushers, impact crushers, RollSizers and vibrating screens
Take advantage of our new product portfolio, which offers modern solutions for crushing and screening technology. Everything made by thyssenkrupp. Our machines are specially developed and engineered for the requirements and needs of our customers in the aggregates, mining and other mineral processing related industries.
The machines are used in the crushed stone industry for the primary, secondary and tertiary crushing of granite, basalt, gneiss, limestone and other hard and medium hard rocks as well as in the ore and cement industry.
Jaw Crushers
Learn more about our Jaw Crushers
Cone Crushers
Learn more about our Cone Crushers
Impact Crushers
Learn more about our impact crushers
Multirok® vertical shaft impactor
Learn more about our Multirok® vertical shaft impactor
variopactor®
Learn more about our reversible impact crusher variopactor®
goovi® Multiple Vibrating Screen
Learn more about our multiple vibrating screens
Circular Motion Screens
Learn more about our Circular Motion Screens
Linear Vibrating Screens
Learn more about our Linear Vibrating Screens
RingGranulators
Learn more about our RingGranulators
RollSizers
Learn more about our RollSizers
Belt Conveyors
Learn more about our belt conveyors
Advantages
One source for crushing and screening equipment
Short delivery times
Outstanding performance
World-wide availability
Service close to the customer
Our product portfolio
Jaw crushers: The first choice for primary crushing
The thyssenkrupp jaw crusher with its rugged design has proven itself in the aggregates industry as an effective primary crusher in granite, basalt and other hard rock. It has also been successfully installed in the mining and cement industries. An optimized crushing chamber in combination with high strokes ensures very high capacities and long service life of the crushing tools.
Kubria® cone crushers: Advanced technology in hard rock crushing
The Kubria® cone crusher from thyssenkrupp is a highly effective secondary and tertiary crusher for granite, basalt and other hard rock. Apart from applications in the aggregates industry it has been successfully installed in the mining and cement industries. With exchangeable crushing chambers the machine can be adapted to the customer's specific requirements providing very high content of cubic material in the product. Equipping Kubria® cone crushers with the Kubriamatic control and monitoring system enhances a reliable and safe operation.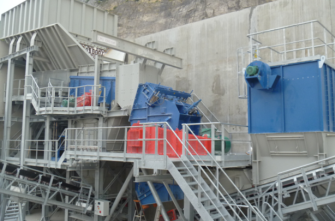 Impact crushers: for the aggregates and mining industries
Wherever medium-hard and hard rock is processed into gravel, chippings or sand, impact crushers from thyssenkrupp can contribute to efficient operation.Typical applications are the crushing of limestone, dolomite, gypsum and phosphates as well as the crushing of demolition waste and asphalt. The compact design allows the use in stationary as well as in semi-mobile and mobile plants.
Multirok® vertical shaft impactor: First choice for chipping and sand production
The Multirok® vertical shaft impactor (VSI) is used for tertiary and quaternary crushing to produce chippings and sands with high portions of cubical product. Depending on the application, customers have the choice between open and closed rotors as well as rock-on-anvil and rock-on-rock crushing. Regardless of the crusher configuration, crushing tools made of high performance materials ensure longest service life.
Click here to learn more about our Multirok vertical shaft impactor (VSI)
Our reversible impact crusher – the variopactor®
The variopactor® is a newly developed reversible impact crusher from thyssenkrupp. The name speaks for itself: With its modular design, the variopactor® can be adapted to a wide variety of applications. Using different rotors, aprons and the optional grinding path, it can produce gravel, chippings or mechanical sand.
In addition to its versatility, the variopactor offers consistent product quality with high cubicity and significantly reduced maintenance times. In order to create an efficiency-increasing system solution, it can be easily integrated into existing plants. Our customers benefit from years of experience in designing and manufacturing reliable machines and plants for mineral processing applications.
Click here to learn more about our reversible impact crusher variopactor
thyssenkrupp goovi® – the revolution in screening technology
goovi®, thyssenkrupp's innovative multiple vibrating screen, generates good vibrations! With its innovative, patented drive system and many intelligent detail solutions, it sets new standards in screening technology and achieves maximum screening efficiency, flexibility, and product quality along with significantly reduced weight, space requirements, and energy consumption. The goovi® is used for secondary and tertiary screening in the gravel and aggregates industry, in mining and in recycling, where its simple modular design allows it to be installed very easily in existing plants.
Click here to learn more about our Multiple Vibrating Screen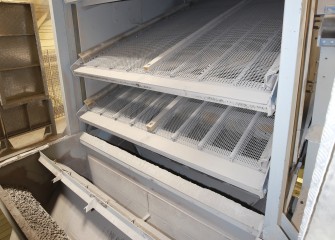 Circular Motion Vibrating Screens: High efficiency in classification
thyssenkrupp circular motion vibrating screens are successfully operated in various installations, ranging from aggregates to mining. The screens come with 2-, 3- and 4-decks. Screen clothes will be customized according to the feed material and product requirements. These screens are convincing our customers by their high throughputs with a high degree of separation accuracy and an ingenious, maintenance-friendly technology.
Click here to learn more about our Circular Motion Vibrating Screens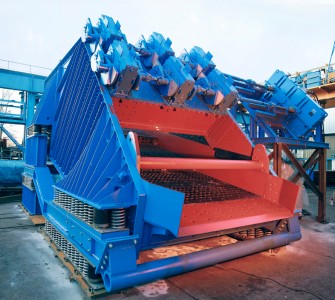 Linear Vibrating Screens: High efficiencies at high throughputs
thyssenkrupp Linear Vibrating Screens classify by principle of thin layer screening. They are designed to handle high throughputs with high separation efficiencies. They meet versatile requirements like dry and wet screening and dewatering of bulk materials such as hard rock, limestone, gravel, coal, ore, sand and salt. The stroke is infinitely variable. Furthermore a vibration isolation frame can be added to decrease forces acting on the foundation. These are only two of many other interesting features.
RollSizers: The expert for coal crushing
thyssenkrupp offers two types of RollSizers: CenterSizers and SideSizers. Our RollSizers are in operation around the globe. Applications range from coal mines to coal power plants. With a product range of more than 15 models our RollSizers can handle throughputs from 200 tph to 3000 tph in multi-stage plants.
RingGranulators: Effective coal crushing with a minimum of fines
thyssenkrupp RingGranulators - also known as Ring Hammer Mills (RHMs) - are operating in thermal power stations for crushing of coal before the final grinding process. The product can vary from around 20 mm to 50 mm. RingGranulators provide a consistent product, generate low amounts of fines and convince by providing a high availability, great serviceability and high operational safety.
thyssenkrupp belt conveyors: Flexible and modular
thyssenkrupp's standardized belt conveyors have proven themselves in a wide range of applications in the production of aggregates, gravel, chippings and sand as well as in the recycling of construction waste. Due to the modular design, different lengths and widths as well as short delivery times can be realized. The high technical standard through the use of high-quality parts and components is just as convincing as the low transport costs through the adaptation of the modules to container dimensions. Belt conveyors from thyssenkrupp can be used to realize almost every conveying concept within processing plants.
References
Carrieres ROSETTO S.A.R.I.
In Saint Jeoire en Fuacigny, France we provided an aggregate plant for limestone with jaw crusher EB 12-10, Kubria® cone crusher G 110, VSI Multirok® 9, circular motion screens CK 603 and CK 1703
Quarry Adelebsen of Hermann Wegener GmbH & Co. KG
Here you see a jaw crusher and a Kubria® cone crusher in the basalt quarry Adelebsen of Hermann Wegener in Germany.
Call us