The HPP process - The benchmark for food preservation
Use high pressure processing for food preservation and discover new potentials for the food industry.
Food preservation before the HPP process
The conservation of food has been on people's minds for thousands of years. Humans have developed countless methods and techniques to preserve their food, to make germs and bacteria harmless or to preserve the taste and vitamins.
From curing and smoking in ancient history to the first attempts at preservation through cooling in antiquity to conservation through boiling or the addition of artificial preservatives, humanity has always been very inventive in order to be able to live on its food for as long as possible.
Although all these techniques made it possible to increase the shelf life of food, numerous unintended side effects had to be tolerated: It could not be assumed with certainty that the food was germ-free and fresh, and contaminations frequently occurred as well. The taste and sensory characteristics were also affected.
The HPP process. A milestone for food preservation
One method that eliminates all these disadvantages is high-pressure processing, in which food is efficiently and gently subjected to high pressure. The first conservation tests with HPP were carried out on fresh milk in England as early as 1899. However, more than 100 years passed before the first commercial use: from 1990 onwards, fruit jams in Japan were treated with the HPP process in order to guarantee their freshness and longer shelf life. This laid the foundation for the spread of high pressure pasteurization. In the mid-nineties HPP orange juice was offered in French supermarkets and since the beginning of the millennium the process has attracted increasing interest in the fruit and meat industry.
What is the HPP process?
The HPP process is a procedure for preserving food on the basis of high pressure and without the use of additives or heat. The process meets the highest safety requirements by being able to eliminate germs and bacteria using high pressure, thus increasing product safety and food shelf life.
What has HPP got ahead of the other preservation methods?
While unwanted microorganisms can survive even under conditions of extreme heat or cold, germs and bacteria are susceptible to changing pressure conditions and can be eliminated by applying pressure. The HPP process not only enables fast cycles, but also is highly reliable during the cycles, as the products are treated in their final packaging and uniformly.
In addition, high pressure processing meets the highest ecological demands. Nothing but electricity and drinking water is needed to operate the machine. Since the water can be reused, no waste products or wastewaters are produced. To operate the high-pressure intensifiers, electrical energy of around 15 kWh per cycle is required. This corresponds approximately to the amount of energy needed to heat a steady volume of water by 10°C. The energy consumption of a high-pressure translator is about 15 kWh per cycle.
High pressure pasteurization is also gentle on the product itself: Since no preservatives or chemicals are used, flavors, vitamins and the natural appearance of the treated products remain almost unchanged.

How does the HPP process work?
In high pressure treatment, foodstuffs are usually subjected to high pressure in their final packaging in a water bath. For some years now, machines have been available for the process which have been specially designed for the requirements of the food industry and in which the product is pasteurized batch by batch.
In these HPP plants, a water pressure of 6,000 bar usually acts uniformly on the product from all sides and reaches into the core of the product. While the strength of the pressure is not high enough to release covalent bonds or create new compounds, it is capable of destroying weak bonds. The cell membranes of bacteria and germs consist of these weak bonds, which is why they are eliminated.
The shelf life of food is therefore considerably increased by high-pressure treatment: Since high pressure eliminates many food-damaging organisms and can deactivate enzymes, decay processes are significantly slowed down and in some cases even prevented. For example, some types of fruit no longer turn brown. Flavors and vitamins, on the other hand, consist of very small molecules and do not belong to the group of weak bonds. They are not damaged and remain intact. High pressure processing has proved particularly effective for fruit products and meat products. Although even very sensitive foods in their final packaging are exposed to this pressure, their appearance and consistency remain unchanged after treatment.
The advantages of the HPP process
Processing in the final packaging
Ideal consistency and appearance
Extension of the minimum shelf life by at least a multiple
Without thermal influence
No need to use chemicals / preservatives
Gentle handling of food and increased food safety
Preservation of vitamins and natural flavors
Potentials for the development of new products
Application areas for the HPP process
The HPP process at thyssenkrupp Industrial Solutions
The thyssenkrupp subsidiary Uhde HPT, a global leader in high-pressure technology, specialized in this field several years ago and developed HPP systems for various applications worldwide. In addition to manufacturing the machines, Uhde High Pressure Technologies also offers a full range of services. This starts with advice on in-house trials, followed by microbiological testing and extends to contract treatment. Naturally, we also have specialists from the entire value chain at our disposal.
An experienced team of engineers, chemists and technicians constructs and builds HPP plants - Made in Germany - which fit exactly to the processes used by our customers.
High pressure processing "made by Uhde HPT" extends shelf life, preserves the texture and flavour of juices, fruit, meat products, dairy products, seafood and ready meals and raw pet food (BARF) and creates considerable potential for opening up new markets through more efficient delivery and storage conditions. Food manufacturers around the world are now using this technology.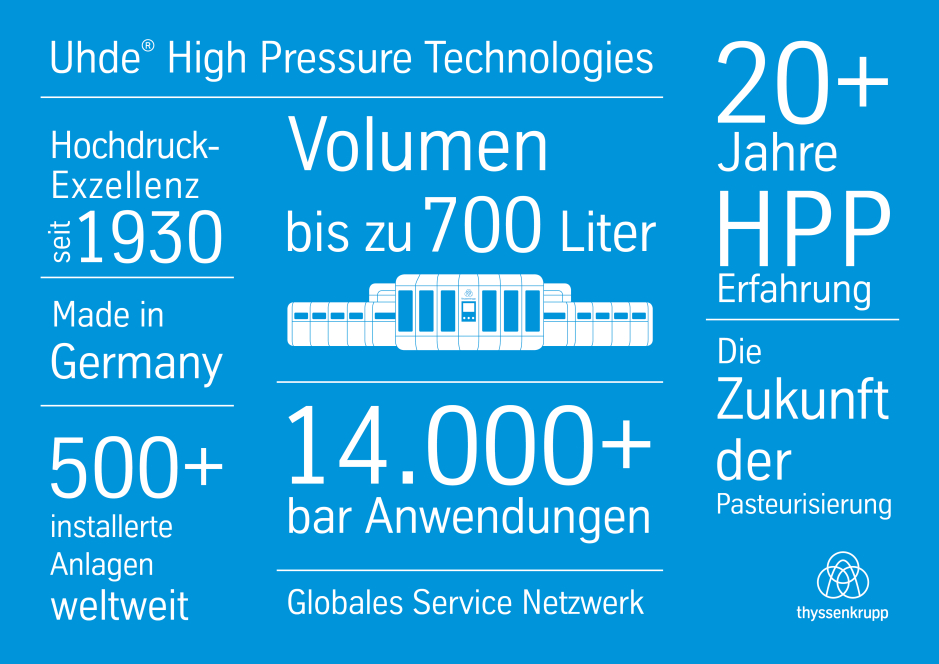 We are your contact partners for the HPP process. Contact us!
Boris Brockhaus
Sales
Uhde High Pressure Technologies GmbH
Buschmuehlenstrasse 20
58093 Hagen
Germany
Phone:
+49 (0)2331 / 967-302
Fax:
+49 (0)2331 / 967-370
Jasna Ivanovic Ph.D.
Food Technologist HPP
Uhde High Pressure Technologies GmbH
Buschmuehlenstrasse 20
58093 Hagen
Deutschland
Phone:
+49 (0)2331 / 967-368
Philipp Teucher
Service
Uhde High Pressure Technologies GmbH
Buschmuehlenstrasse 20
58093 Hagen
Germany
Phone:
+49 (0)2331 / 967-413
Wenceslaus Pünter
Service HPP
Uhde High Pressure Technologies GmbH
Buschmuehlenstrasse 20
58093 Hagen
Germany
Phone:
+49 (0)2331 / 967-327