Almost 100% yield, significantly longer shelf life: HPP seafood.
A single treatment for increased product safety and quality
Uhde high-pressure processing safely and reliably neutralizes listeria, salmonella, and other vegetative pathogens. Even vibrio in seafood is inactivated, increasing shelf life several-fold. Because the process involves no heat, the crustacean meat stays raw and fresh. Whether lobster, prawns, crab, oysters or mussels: It's never been easier to access new markets with premium quality.
Bigger batches faster
With high-pressure processing you can also optimize shucking productivity. At pressures of between 2,000 and 3,500 bar the meat detaches from the shell and can easily be removed, increasing meat yield to almost 100%. Even oysters are easy to open by hand without the use of a knife. The oyster's muscle contraction is deactivated. So with just one solution you can increase productivity, quality and safety at all levels.

Yield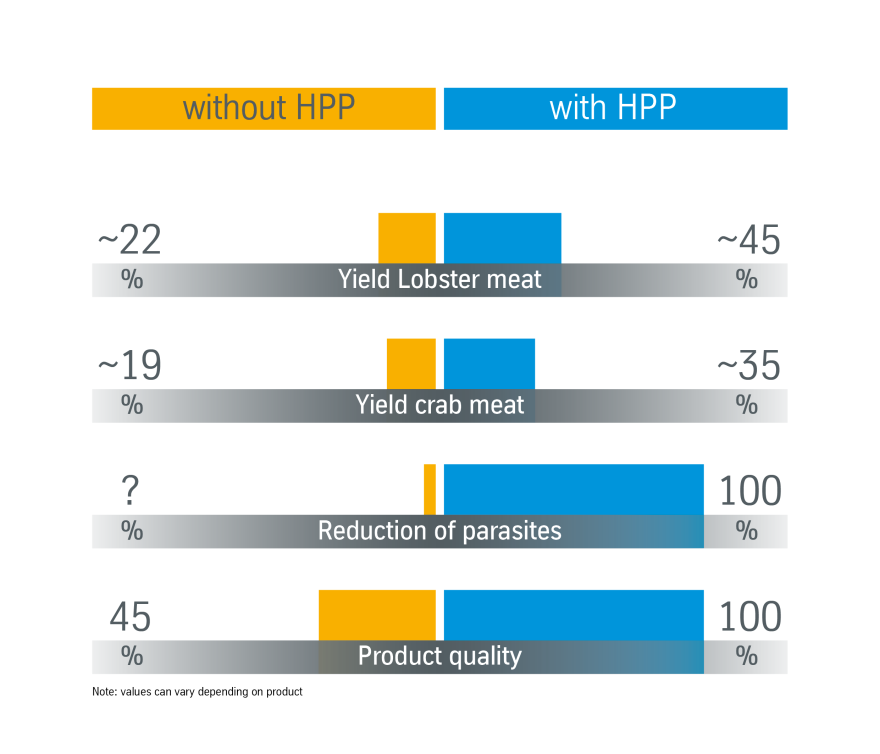 With Uhde high-pressure processing you can make the meat production of seafood even more efficient. Double your yield - with the highest quality.
Sounds good? Check it out!
We'd love to demonstrate our high-pressure process on your product in our in-house test center.
Email us for more details!